Did you know that a quilt label is very important and should be a part of every quilt that is made? No matter how big or small, a quilt label should be on each and every quilt. After all, most quilts will last a lifetime or longer. You are making history when you create a quilt so let's preserve that history so our grandchildren, great grandchildren, nieces, nephews, great nieces, great nephews, etc. know who made the quilt they love.
What is a Quilt Label?
Quilt labels can be made in many ways. They can be very elaborate and hand made. They can be printed off a home printer. They can be hand embroidered or machine embroidered. And they can even be made just by signing the back of a quilt with a fine point permanent marker. (If you are going to do this, I would highly recommend that you test your permanent marker on a scrap of backing fabric to make sure it is not going to bleed through to the front of your quilt.)
What information should you put on your quilt?
When deciding what to put on a quilt label ask yourself these questions:
1. What is the name of the quilt?
2. Was the quilt made for someone special or an event?
3. Who pieced the quilt?
4. Where was the quilt pieced? (City & State)
5. When was the quilt finished? (Month & Year)
6. Who quilted it & where was it quilted? (This is optional)
Here is a an example of what a quilt label might look like: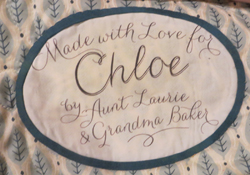 In this case, my sister-in-law (Aunt Laurie) pieced the top, and I (Grandma Baker) quilted it for my grand-daughter Chloe. No dates or locations. But, it still gets the important info on the label. Usually, the labels I make are more of a rectangle, but these demanded that they be an oval shape.
Other Types of Labels

Embroidered: This was a label that I embroidered on a quilt that I completed in 1988. Little crude and information was a bit lacking, but it certainly won't ever wash out!
The label on the left shows a label that was attached using an embroidery stitch called a 'blanket stitch'. The thread matches the backing fabric. Without seeing the entire label, can't you just imagine that this quilt was given to a young boy!
Whatever type of documentation you prefer, just keep in mind that adding this last little touch to your quilt is not about self-recognition. It is letting those of future know the who, what, where, when and why this quilt was made.
If you would like Shadywood Quilts to create a label for your quilt, just let us know what you would like included, and we will take care of the rest.
Black and white Labels - $15
Color Labels - $25
Embroidery - Based on number of letters. Minimum $15*

*includes setup and 15 characters, .40 per each additional character
Read Quilt Label Tutorial if you would like to create your own quilt label.